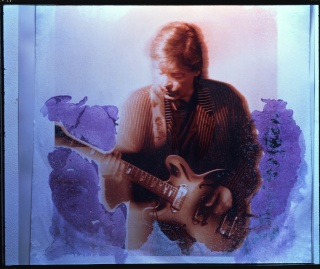 As IRT has come to grips with the truth that we are, in fact, McCartney folk here after spending many years under the impression we were more Lennon people, we are happy to pass along the news of Macca's intentions to release a brand new album under his electronically-minded alter ego, The Fireman, his excellent and underrated collaborative duo with producer Youth, this November. Details below from the Fireman's esteemed publicist:
The Fireman Finds His Voice With Brand New Album
Electric Arguments
U.S. Release Date: November 18, 2008
The Fireman has returned after a ten-year break with something to sing about. Electric Arguments, the brand new third studio album from the mysterious duo--out in the U.S. November 18 on MPL/ATO--is their first release to feature vocals.
"Ambient dreams in rainbow arches describe the circles of The Fireman", is how the duo described their music in a rare interview around the release of their last album 'Rushes' in 1998. Their first album 'Strawberries Oceans Ships Forest', released in 1993, was a solid ambient dance album heavy on electronics. Around this time the identity of The Fireman was unknown until the press exposed the duo as none other than Paul McCartney and Youth. The now defunct music bible Melody Maker heaped praise on the project, "Paul McCartney has discovered dance music - the results are staggeringly brilliant. They (The Fireman) take a melody and, with dexterous genre-hopping through ambient, trance and house, evolve a number of breathtaking variations."
Last year The Fireman returned to work again to start work on what would become Electric Arguments, ultimately finding thirteen days and recording a song on each of those days over the course of a little more than a year. The results this time are entirely different from any previous Fireman release.
Earlier this year The Fireman donated a new track, Lifelong Passion (which appears on Electric Arguments) to the charity Adopt-A-Minefield. This new track marked a directional change for The Fireman, showcasing a more traditional song based sound with vocals, completely unlike anything on the previous two albums. Speculation increased as a 'studio source' was quoted in The Times of London as describing their new sound 'like Arcade Fire meets Led Zeppelin'. So what had The Fireman been up to and what does the album sound like?
Electric Arguments is an eclectic and varied album consisting of thirteen tracks, each written and recorded in the space of one day. McCartney and Youth went into the studio with no master plan or clear direction. Instead they let the project take a life of its own, with the results surprising them as much as anyone.
The record opens with a stylistically diverse trifecta: Nothing Too Much Just Out Of Sight is a classic rock attention grabber followed by a hairpin turn in the form of the acoustic driven Two Magpies and yet another direction with Sing The Changes, a euphoric upbeat song with an undeniable and instantly memorable melody. Electric Arguments continues in this fashion, each track with an entirely different personality yet all meshing perfectly. Other standouts include 'Light From Your Lighthouse', 'Sun Is Shining' and 'Dance 'Til We're High', all in keeping with the genre-hopping spirit of the first two Fireman albums and demonstrating Paul McCartney's unending interest in pure musical possibilities. This is an album set to both surprise and delight the listener. Made with no record company restraints or a set release date to work to, Electric Arguments is a work of complete artistic and creative freedom.
The Fireman
Electric Arguments
Track listing:
1) Nothing Too Much Just Out Of Sight
2) Two Magpies
3) Sing The Changes
4) Traveling Light
5) Highway
6) Light From Your Lighthouse
7) Sun Is Shining
8) Dance 'Til We're High
9) Lifelong Passion
10) Is This Love?
11) Lovers In A Dream
12) Universal Here, Everlasting Now
13) Don't Stop Running
Produced By Paul McCartney & Youth
All tracks written by Paul McCartney
"Lifelong Passion" video by the Fireman: